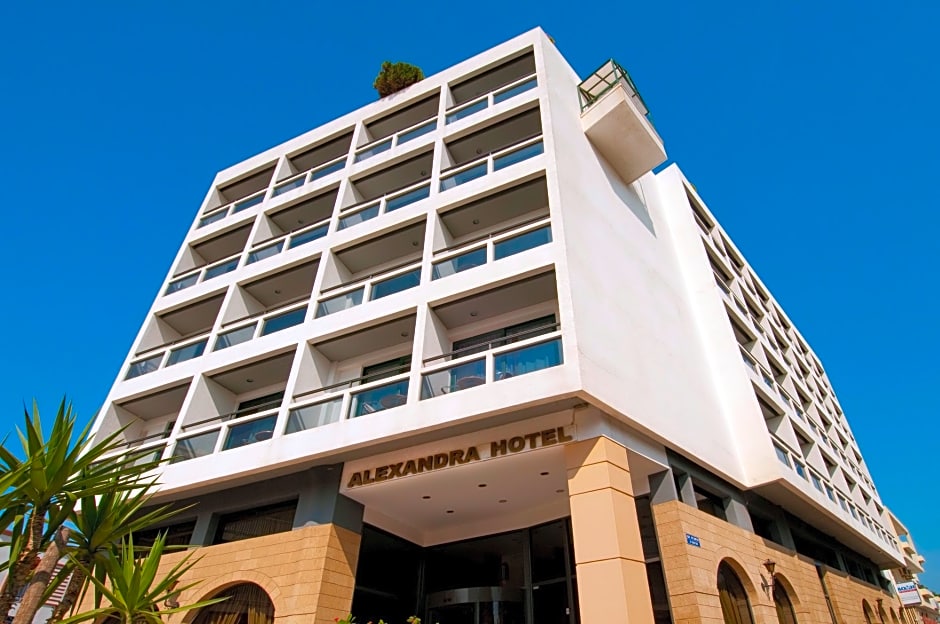 Idyllically set amid Kos Island's capital city and primary port, a major draw for both couples and families with little ones, Alexandra Hotel sports a prime spot where a wealth of natural attractions, well-preserved architecture, and scenic promenade are found. Additionally, this four-star retreat showcases outstanding proximity to numerous alluring sites; namely, Church of Agia Paraskevi, Kos Castle, Tree of Hippocrates, Ancient Agora, and Roman Odeon Amphitheater.

Accommodation
Along with a lovely balcony facing phenomenal sights, the elegant guestrooms of Alexandra Hotel display plenty of modern amenities such as flat-screen TV, premium satellite channels, safe, refrigerator, plus air conditioning. What's more, perks in the form of functional desk, blackout curtains, signature bedding, and complimentary toiletries come as standard whereas certain abodes feature a quaint kitchen and separate dining area. Perfect for those who need to stay connected, there is free Wi-Fi. Upon request, supervised childcare can be arranged in the comfort of one's abode.

Hotel Facilities
Offered during select hours of the day, travellers of Alexandra Hotel enjoy the convenience of prompt room service while they also welcome a charming on-site café and cocktail bar/lounge. Moreover, this beachfront establishment houses top-notch fitness facilities, stunning outdoor pool, soothing sauna, arcade/game room, together with classy hair salon. Vacationers also benefit from dry cleaning/laundry service, well-appointed meeting room, combined with fresh coffee/tea and television in the sophisticated lobby. The friendly, 24-hour front desk staff is readily available to aid with virtually any need.

Transportation
The Alexandra Hotel is ideally situated just 20 kilometres from Kos' airport. Furthermore, those travelling by vehicle are privy to free self-parking options on the premises.
予約する方法
Alexandra Hotelで予約するのが簡単で安全でございます。ご希望の日付を選択します。そして、フォームを送信するために「料金を確認し」というボタンをクリックします。 客室タイプと料金はお宅の画面に戻った後で、画面の中央にある部屋の情報を読むと画面の右側にある「予約する」というボタンをクリックすることによって希望の料金を選択することができます。希望の客室タイプを選択した後で、「ご予約を完了」というフォームに転送されます。その時に「滞在の詳細」を確認して、「ゲストの詳細」という部分の空欄でご自分の詳細のことを書きます。ご自分の名前とメールアドレスが正しく入力されていることを確認してください。 すべての重要な情報を記入した後で、「ご予約を完了」というボタンをクリックしてください。ご自分のセキュリティを確保するために、私たちがクレジットカード番号を暗号化し、非使用可能な形式にエンコードする安全なコマースサーバーを使います。
地域情報
空港

Kos, Greece (KGS-Kos Island Intl.)

- 12.57 mi

Kalymnos, Greece (JKL-Kalymnos Island National)

- 19.69 mi

Bodrum, Turkey (BXN-Imsik)

- 26.82 mi

Bodrum, Turkey (BJV-Milas)

- 32.28 mi

Leros Island, Greece (LRS)

- 33.32 mi

Astypalaia, Greece (JTY-Astypalaia Island National)

- 54.86 mi

Rhodes, Greece (RHO-Diagoras)

- 56.05 mi

Samos, Greece (SMI-Samos Intl.)

- 58.78 mi

ミュージアム

Kos Museum

- 12.01 mi

Bodrum Museum of Underwater Archeology

- 12.39 mi

Elephant Museum

- 30.52 mi

Navy Museum

- 36.28 mi